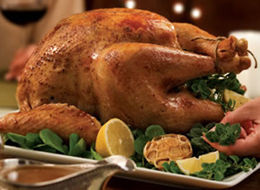 Eating during the holidays can be a challenging time for those who are trying to keep fit. The strategy for most people is to just throw in the towel, eat everything in sight, and go into the "bulking phase" .
For those people who want to enjoy all of the delicious food of the holiday season without sacrificing their 6-pack, here are some holiday foods that can actually help build muscle. Below you will find a list of holiday foods that help you pack on the muscle…provided that you still hit the gym of course.
Turkey
This Thanksgiving and Christmas staple is packed full of protein. Just 3 ounces of white turkey has a whopping 18.3 grams of muscle building protein and is low in fat. The dark turkey has even more protein and comes in at 24 grams for a 3 ounce portion. But if you are trying to watch calories, you should skip the dark turkey and stay with the white.
Prime rib
This succulent meat has 31 grams of protein per 4 ounce serving. Not only that, but prime rib is a great quality protein source that is also rich in iron and other muscle building nutrients.
Sweet potatoes
Sweet potatoes are a good quality carbohydrate that can fuel your muscles through an intense workout. If you make them like my granny makes them, they taste great because they are covered in marshmallows, brown sugar, and butter. While this is not the healthiest way to prepare them you're still getting 41 grams of quality carbohydrates and 7 grams of dietary fiber from the sweet potato alone. One sweet potato also has 769% of the daily value of vitamin A.
Egg Nog
Packing away all of that turkey, prime rib, and sweet potatoes can make a guy thirsty. So what better way to wash it all down than with a nice tall glass of eggnog? This holiday sweet treat has about 10 grams of protein in just one cup. It's also loaded with calcium to help build strong bones.
Watch out: Egg nog can also be a calorie bomb. It's best to shoot for the light or reduced fat option.
So you're probably not going to look like Brad Pitt in Fight Club after New Year's, but you can get a whole heckuva lot stronger and bulked up by eating these great tasting holiday foods.